Company Profile
Chiaphua's multinational presence means a global commitment—to our partners,
to our subsidiaries, and to our consumers—to supply the best products the world has to offer.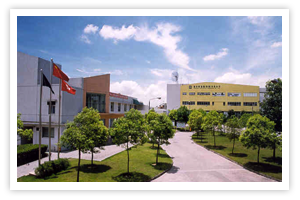 From humble beginnings in the early 1920s as a small, privately-held metal stamping business, Chiaphua Industries has grown into a multi-billion dollar global enterprise.Chiaphua's long history has given the company a firm foundation from which to build upon for continuing success today. Over the last 50 years, Chiaphua has been involved in the manufacturing of an extensive range of industrial and consumer products, including computers, clocks, sea-freight containers, lighters, toys, silver-plated hollowware, security and telecommunications equipment, electrical appliances, motors and power tools.
Chiaphua Industries' success is built on the guiding principles of integrity, harmony and partnership laid down by our founding members. These values have enabled us to forge a number of long-standing joint venture alliances with some of the world's biggest and most recognized consumer brand companies.
In addition to our joint venture partnerships, Chiaphua Industries also maintains contract manufacturing relationships with many of the world's leading brand name companies. Through this global network, we enjoy worldwide representation in the oral care, household appliances, writing instruments, telecommunications and environmental treatment markets. Besides being a manufacturing powerhouse, we are also expanding into the retail, hospitality and real estate business in recent years following our Group's success.
Chiaphua Industries is a highly respected multinational and has considerable international stature. It is recognized for its entrepreneurial spirit and its strong sense of integrity, garnering the respect and loyalty of world-class customers and partners. In its continued commitment to excellence, the organization encompasses traditional values of Enterprise and Harmony. Commitment to excellence has been achieved through working closely with Chinese and overseas organizations in research and development, enabling Chiaphua to introduce innovative products to world markets.