History
A history as rich and diverse as the company itself.
In Chinese, Chiaphua means both 'enterprising spirit' and 'harmonious partnership'. These qualities have taken our company far beyond its modest beginnings as a small, family-owned metal stamping company, established back in 1922. The Chiaphua Group, founded three generations ago by Mr. Cheng Chik Chi and his three younger brothers, is one of the largest privately-held industrial group of companies in Hong Kong.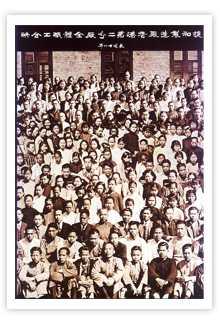 Pre World-War-II
During the 1930s, the Cheng brothers decided to set up a factory in Guangzhou using their father's hardware shop name Chiaphua. The factory was set up to produce metal ware and cutlery. Chiaphua also manufactured and supplied instruments such as bed frame, helmet and shovel to the military at the time.
The Japanese invasion during World-War-II caused the Guangzhou factory to cease operation. The Cheng brothers moved the factory to Hong Kong. Within 4 years, Chiaphua had expanded up to four factories in Hong Kong. The Group had acquired more than 3,000 employees and often had contracts worth 10-20 million Yuan on hand.
Post World-War-II
After World-War-II, there were many vessels and ship sunk in the Victoria Harbor of Hong Kong. The government needed to rebuild housing and carry out series of construction work however they were short of metal and raw materials. Seizing the opportunity, the Cheng brothers incorporated a new company to undertake ship-breaking and deep sea salvage operations for Hong Kong Government. The activities of the Group then extended to steel, brass and aluminum rolling and extrusion.
During the 1950s, Chiap Hua Clocks and Watches Limited (CCW) was established to produce mechanical and quartz clocks. Later, a six-storey industrial building owned by the company was used as its headquarters which manufacturing became the core business at that time. The company also expanded its operations and produced a variety of products such as friction motors, toys, lighters, picture frames, locks, food lifters, quartz resonators, telephones, and electrical appliances.
By gaining such momentum, CCW began branching out producing more diverse products and gaining popularity as a renowned OEM. In order to represent the company more precisely, CCW changed its name in the early 1980s to Chiaphua Industries Limited (CIL), our company's current name.
During these years, the company steadily expanded its manufacturing interests to include clocks, lighters, sea-freight containers, toys, tableware, door locksets, telephones, motors, household appliances, industrial tools, and many more. Our manufacturing operations has then swiftly expanded and occupied additional locations before moving to our current factory located in Shenzhen with our Hong Kong headquarters in Tai Po Industrial Estate.
The Chiaphua Group has branched out into many types of manufacturing over the years and has now evolved into a well-connected network of companies involved in a diversified range of manufacturing industries. Today, the group is a privately held global corporation with an annual turnover exceeding US$1Billion. Its fully integrated design and manufacturing platform produces a diversified array of high-quality consumer and industrial products on behalf of a network of partners throughout the world.